The most popular mail server on the globe now belongs to Gmail over Outlook. Almost 1.8 billion people use it actively globally. Gmail holds a market share of much more than 18% of all email clients, per data from May 2021. The preventive techniques that come with every one of these credentials, however, call on users to back up their Gmail messages to HDD drives.
The finest techniques for saving and preserving the Gmail inbox in the system will be covered in this post. Launched in 2004, Gmail is a service offered and maintained by Google. Ever since it has significantly increased in popularity and is now everyone's top pick. Perhaps as a result of the significant increase in online hazards and vulnerabilities, people are being more careful when using their online inboxes.
The significance of system-wide backups of Gmail emails has been illustrated by several intrusions. Office 365 emails may also be backed up by users. Let's first grasp the need for this before we look at the possibilities for saving Gmail emails.

Why You Should Save Gmail emails to Your Hard Drive?

Users must make a hard drive backup of their Google Gmail accounts due to the following reasons.
The 15GB of storage that Gmail offers might rapidly become full for many users. In addition, Gmail starts to slow down and encounters additional issues if the storage is full.
Users may unintentionally lose important mailbox data due to human error. If your system has a backup, data loss can be prevented.
Infections with viruses and hacking incidents might result in the corruption of Gmail data. By regularly backing up your email account, you can prevent such occurrences.
Without a live or consistent internet connection, you may still utilize the Gmail messages and data that have been backed up.
All of the aforementioned justifications highlight the necessity of hard drive backups for Gmail emails. By employing the methods described below, you can achieve the same results.
How to Download Data from Gmail to External Drive?
Gmail may be backed up to External Storage using one of the 3 methods outlined below. These are all manual methods that require to be carried out exactly.
Google Takeout use

Google includes a built-in feature that allows users to back up mailbox contents to the server.
You can follow the steps below to finish the process successfully.
To access your account, provide your Gmail username and password.
Pick Manage Account from the menu to continue.
Pick the Data and customization button in the newly opened window.
Choose the Download your data alternative by swiping down.
By selecting the Deselect all button, you may select every option.
After that, choose the Mail features and then the icon for All Mail Information Contained by scrolling down.
After that, uncheck everything but It does include all emails in Mail on the Mail Message Options page.
Choose the Next Step by scrolling down.
Since the drop-down selection for Delivery method, choose the Email download link to send.
Choose the size and kind of file for which you want to back up the content next.
Once your archive is ready, choose the Create Export option to start the process.
The Export process' current status is shown here, and when it's complete, you'll get an email.
Finally, you will get a message with a download link after the storage is finished. To download it, you must first access it and choose that option.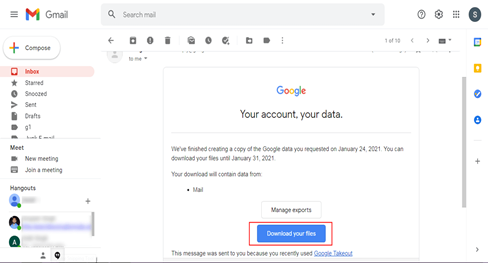 All of the data that you had previously backed up will be stored on your HDD when you select the Download option. Consider the options described below if you find this technique of backing up your Gmail messages to a hard drive to be too time-consuming.

Emails are saved as PDFs in Gmail
It is a procedure for downloading a single Gmail message in PDF format. You can follow the steps below to complete the process.
Start by entering your login details to access your Gmail account.
Next, decide which email you want to transform into a PDF.
Print may be chosen by clicking the More Options button.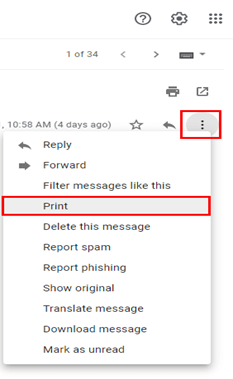 You can also instantly click the email's Print All button.

Select Save As PDF from the Destination drop-down option at this point.
After that, choose the Store icon and choose a destination on your computer.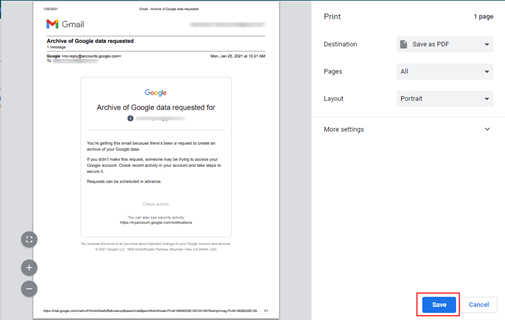 Finally, click Save to save the selected Gmail into a PDF.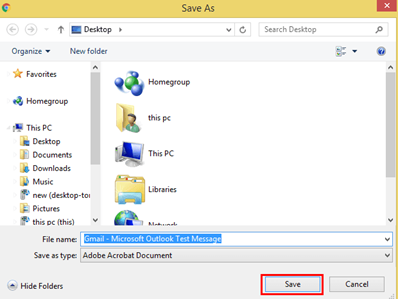 Outlook on Microsoft Office
Using the Outlook app, you may back up your Gmail messages to an HDD in the .pst format. Before saving your emails from Gmail in Microsoft Outlook, you might be required to first set up your Gmail account. Let's begin with the steps.
1.       Open Microsoft Outlook on your computer, then go to the File menu and select Add Account.
2. Your name, Gmail login, and the password provided by the 3rd party app should all be entered here.
3. After that, tap the Next button to start connecting your Gmail account with Outlook in the MS Outlook program.
4. Press the Finish button after the process is complete.
5. Once more, click the File option on the navigation tab.
6. the Open & Export menu, select Import & Export.
7. In Import & Export Wizard, select Next after selecting Export to a file.
8. Select Outlook Data File (.pst) after that, then click Next.
9. Click Next after selecting the file or folder to export.
10. After making your selection, click Finish after selecting Substitute Duplicates with Items Exported.
After completing the aforementioned steps, you would be able to store your Gmail emails in the PST file type to a hard disc.
Constraints of a Manual Approach

You may backup Google Gmail to hard disc using any of the three methods mentioned above. The Gmail backup issue has all of these manual remedies. However, several limitations make it impossible to apply these tactics. They take a lot of time and are difficult. It is inefficient to take large backups of emails since you have to back up each one individually. Additionally, these procedures require prior technical competence to be completed.
How to correctly deploy the expert Gmail Backup solution?
If you don't want to cope with these difficulties, you may utilize Softaken Gmail Backup Tool, a professional option. It is a reliable tool that can save Gmail emails to a hard drive in several different file kinds, including PST, PDF, JSON, MBOX, EML, DOCX, JPG, and others. Additionally, it enables users to transfer their Google content to other email clients, including Yandex Mail, Thunderbird, Yahoo Mail, IMAP, Office 365, and others.
Amazing characteristics that will make you crazy:
● Easy to use, simply a few steps are needed to do the work.
● PST, EML, EMLX, MSG, and MBOX backups for Gmail are available.
● Maintain file quality while securely transferring data.
A few methods may be taken to backup Gmail messages:-
On your PC, download and utilize the Gmail Backup Pro Tool.
The Connect to my Gmail account option will appear once you enter your Gmail username and password.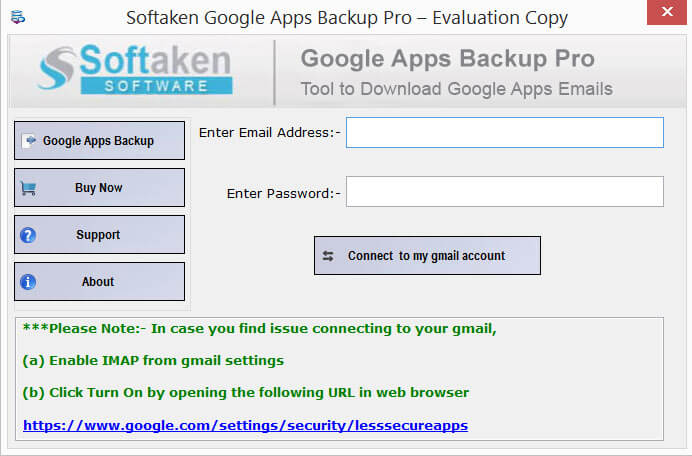 Your Gmail data will be briefly shown. Then press the Next button.
Select whether to backup all folders or a particular folder.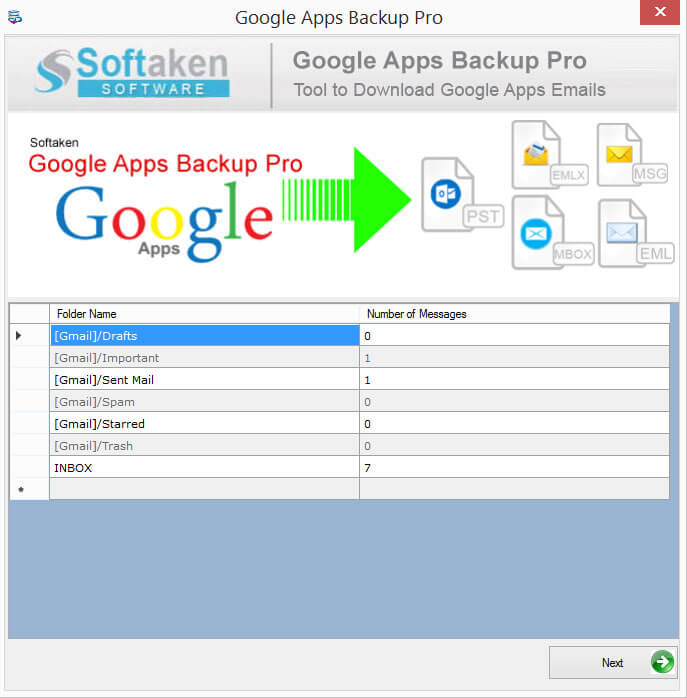 Select an export format, such as PST, MSG, MBOX, EML, or EMLX.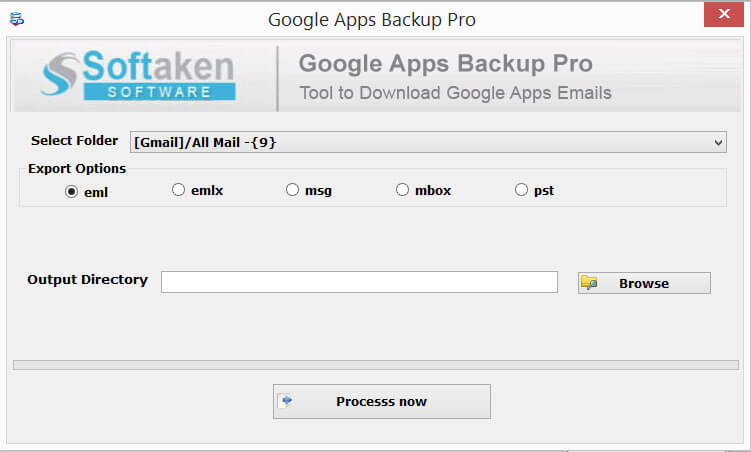 Select a place on your system for the backup data by selecting Browse from the menu.
The backup procedure may be started by clicking Process Now.
Specifications for Gmail Backup Software
Create a full or selective data backup
You may backup your data completely or only certain folders with the Gmail Backup feature. No data will be damaged or lost during the backup procedure.
Export in several email formats
With the help of Gmail Backup Pro, you can easily generate backups by exporting your Gmail data to popular Outlook formats including PST, MBOX, EML, and MSG. With this feature, you may access Gmail data through a variety of desktop email client programs.
Location for user-specified output
You may select a location for the backup to be saved when you're ready to take it. The user can choose an existing folder or a new one when storing results in this manner.
The whole Windows utility
A feature-rich Windows program is Gmail Backup Pro. On every Windows version, such as XP, Vista, 7, 8, 8.1, 10, and others, it is easy to install. There won't be any disruptions to other processes running on your computer.
The backup capacity is infinite
Additionally, users may try the program and save up to 10 files using the free version. You may access all of the functionality of the application by purchasing a license if you want an unlimited number of saves on your Gmail account.
Quality and distinctiveness are preserved
You may benefit from a hassle-free and superior backup solution with the help of the Gmail Backup tool. We honestly preserve the backup files you send us, and we don't change the original data in any way.
Conclusion

Gmail backup to a storage device can rescue you from several challenging situations. You may backup your Gmail messages to a hard drive using the manual methods described in this blog. However, you can just utilize the automatic expert Gmail Backup Tool strategy if you encounter any of the shortcomings of these options. Storing the Gmail inbox, along with any attachments, to the PC, makes the backup process simpler.